go4sailing is a new platform for browsing and booking yachts all over the world. Our service offers a fast, friendly and secure way to book with unbeatable prices and our customers have direct contact with the charter company to answer any questions about the boats or the local areas making the booking experience more personal.
Our reputation for offering the best prices on quality boats is well known and we aim to continually improve this service for you. It only takes for short steps to book a boat and start a great sailing experience.

Start on the the search page of go4sailing.com to find the desired charter period based on dates, the number of guests and location. At locations you can search by marina , city, country or sailing regions (e.g. Canary Islands).
Set your departure date, the duration of your trip and the number of guests that are going with you. Hit the search button and we will find all the avaliable options for you.
If you are not sure where to go, but want to book a boat, then start with the overview of our boats and destinations. Find HD quaility images, videos and full details on each boat and destination.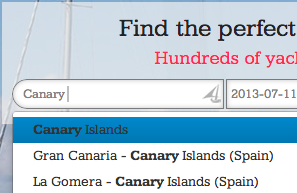 Once you got the search results, filter on your favourite boat brand or model, number of cabins and price. Review the details and stunning pictures of the boats and all extra services the chater company provides.
Click the 'Book your yacht now!' button on the right sidebar and complete the one-pager registration form. Connect with facebook to make it even faster.
The next day you will receive the confirmation direct from the charter company along with the booking coupon certifying your go4sailing membership discount. You will have personal contact with the charter company for payment and any question about the boat, services or the sailing area. Go4sailing is a free service for client making a booking via this website.
Review your reservation status on your Dashboard at any time.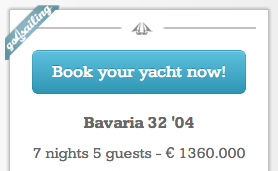 Follow the instructions of the charter company and after completing all payments, there is nothing more to do just enjoy the memorable sailing experience.
You can always review the details of your booking on the Dashboard and can any time contact the charter company in case you have any question.
Find a better price for the same deal and we pay you the difference with the following conditions.
The deal is available at the time of our review
The deal should comprise the very same service: boat, time, destination, extras, etc.
This guarantee does not apply to deals with any kinds of extra discounts including but not limited to points, rewards, memberships or affiliate programs
go4sailing is a platform that helps you finding the sailing experience. We connect you with the charter company so you can finalise the booking and make the payments necessary, directly to them. No payment is required from you towards go4sailing.